Pre-Surgical Procedures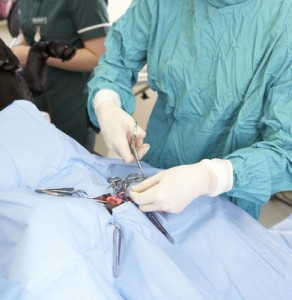 The following are the procedures that should be followed to ensure your pet's safety the day before and the day of surgery. We can send you a handout with this information and will call you prior to surgery to remind you of these procedures.
If you have any questions regarding these procedures, please feel free to call the hospital during office hours at 614-864-0465.
Your pet is scheduled for surgery. To ensure your pet's procedure is as safe as possible, we ask you to follow these instructions:.
1. Do not feed your pet after 8:00 p.m. the night before surgery. Free choice water is fine.
2. Bring your pet to our hospital for surgery by 9:00 a.m. Plan to spend 10–15 minutes reviewing the surgery consent form and discussing your pet's procedure with a member of our team.
3. Confirm your pet's discharge time. We usually discharge dental and outpatient surgeries after 4:00 p.m. the day of surgery. Most other patients stay until after 9:00 a.m. the following day.
4. Be sure to bring a phone number where you can be reached during the day—or you can leave the phone number of a friend or family member who can be reached, should you not be available during the day, in the event that we need to speak with you.
By following these simple guidelines, you can ensure the highest level of safety for your pet.