Our Staff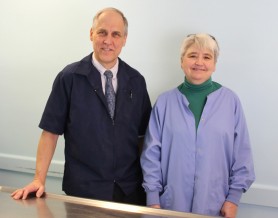 Doctors
Dr. Mary Kay Schwab
Dr. Schwab graduated with a Bachelor of Science degree in zoology from The Ohio State University and continued on in The College of Veterinary Medicine, from which she graduated in 1983. She has been practicing in the central Ohio area since. She joined Animal Care Hospital in 1989. In January 2019, Dr. Schwab became the lead doctor/owner of the hospital. She has made her residence an environmentally friendly habitat for wildlife and enjoys observing the critters that make use of it as the seasons change. Dr. Schwab has been highly involved in rescue work for many many years now. In her spare time, she likes to spend time with her cats, working outside, enjoys the thrill of an auction and collecting marbles.
Dr. Joel Melin

Dr. Melin, after getting a BA in Biology at Ohio Northern in 1974, graduated from The Ohio State University College of Veterinary Medicine in 1978. He went on to practice in southeastern North Carolina before moving back to central Ohio where he opened the Animal Care Hospital of Reynoldsburg in 1985. In January, he transitioned the hospital to Dr Schwab and over time will phase into fewer workdays. In his spare time, Dr. Melin enjoys reading, photography and spending time with his family. He has inherited two Shih Tzus, Oliver and Sidney, who enjoy lazing in their beds and lead pretty quiet days as both are over 17 now.

Veterinary Technicians
Lyne has been with the hospital for 34 years. Though part-time, she continues to be a great staff member and is very helpful with everyone. Lyne has a farm with a hodgepodge of different species. She manages to stay very busy and really enjoys getaways to the North Carolina coast and Topsail Island.
Jessi has been with us for 20 years now. Starting while still in high school, Jessi is now a top-notch tech and very good at helping clients understand their pet's situation. She has become our staff manager, setting up work schedules and trying to get things running smoothly. Jessi has several cats and dogs and two wonderful young daughters. She has become a cheer coach and helps with other kid activities, so any free hours are few and far between.
Karma has been with the clinic for 14 years. Besides her tech responsibilities, she plays a big role with the adoptions and keeping track of who's who. She has both cats and dogs. She enjoys '60s music, with a special fondness for Sir Paul and the Beatles. Also, Karma has started doing yoga and become an avid runner and biker, doing 5 K's and longer to keep fit.
Bailee joined our staff in early 2014 as a tech/assistant.  Originally from the far northwest, Washington, she has made Ohio her home for the last 13 years. She enjoys cosmetology and several sports, favorite teams being the Heat and the Yankees. Bailee has several canine and feline companions that reside with her.
Kirsten is a tech who started in 2016 as a graduate of Bradford Tech Institute. Originally from the Wooster area, she now resides east of Newark. There are two dogs and three cats who share home with her. If the opportunity arises Kristen enjoys hiking and camping.
Courtney started in April of 2018 and has taken over at the front desk. From the Pickerington area, she brings a variety of experience to managing the phones, greeting people and juggling the busy-ness up front. She also is beginning to learn some of the tech responsibilities. Courtney has an outdoors fondness, with hiking, fishing and camping as free time activities. Given the opportunity, she also really enjoys getting to live music shows.
Kelly became a staff member in the summer of 2012. She is a part-time tech/assistant, helping us with all hospital aspects and her ever-present smile. Kelly has three children who keep her on the go with cheer to sports, as a mom taxi to lots of events. She was  head coach for cheer teams at her daughter's high school, but recently stepped down after her daughter's graduation.