The Basics About Rabbits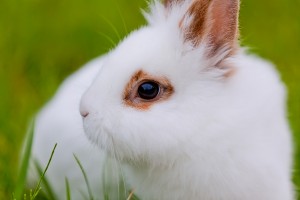 Here are some basic tips about caring for your new rabbit. For more in-depth information, please visit the House Rabbit Society website or call us with any questions you might have.
Spaying or Neutering
Must be at least 4 months of age. Rabbits this young can breed, so beware!
Neutering helps eliminate spraying to mark territory.
Helps with litter box training.
They are easier to train if they are fixed.
Lessens the aggressiveness that they show each other and humans.
Lowers cancer risk, as in cats and dogs.
Lessens chewing behavior.
The rabbits become more loving since they are not as concerned about territory.
DON'T BREED YOUR RABBITS! THERE ARE TOO MANY WAITING TO BE RESCUED! IF YOU WANT ANOTHER ONE, CALL A HOUSE RABBIT SOCIETY!
Housetraining
Train first in a pen with 2 litter boxes set in corners. When they are completely trained to those, let them have increasingly wider areas to roam in—as long as they are supervised. Bunnies can get into trouble if not watched!
Bunny-Proofing Your House
They will chew, so be careful with electrical cords, drapes, and rugs with strings.
Protect electrical cords by placing tubing over them.
Give your rabbit enough toys to be distracted from other destructive behavior. Phone books, cardboard boxes, and cardboard tubes are great!
Diet
Timothy hay
Oxbow pellets
Papaya tablets
Some greens
Occasional veggie treats