Our Staff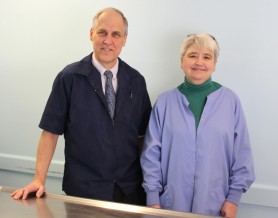 Doctors
Dr. Joel Melin

Dr. Melin, after getting a BA in Biology at Ohio Northern in 1974, graduated from The Ohio State University College of Veterinary Medicine in 1978. He went on to practice in southeastern North Carolina before moving back to central Ohio where he opened the Animal Care Hospital of Reynoldsburg, Inc. in 1985. In his spare time, Dr. Melin enjoys reading, photography and spending time with his family. He has inherited two Shih Tzus, Oliver and Sidney, who enjoy lazing on the couch and barking at sidewalk passersby.
Dr. Mary Kay Schwab
Dr. Schwab graduated with a Bachelor of Science degree in zoology from The Ohio State University and continued on in The College of Veterinary Medicine, from which she graduated in 1983. She has been practicing in the central Ohio area since. She joined Animal Care Hospital in 1989. She has made her residence an environmentally friendly habitat for wildlife and enjoys observing the critters that make use of it as the seasons change. Dr. Schwab has been highly involved in rescue work for over 15 years now. In her spare time, she likes to spend time with her cats, working outside, enjoys the thrill of an auction and collecting marbles.

Veterinary Technicians
Lyne has been with the hospital for 28 years. Though part-time, she continues to be a great staff member and is very helpful with everyone. Lyne has a farm with a hodgepodge of different species. She manages to stay very busy and really enjoys getaways to the North Carolina coast and Topsail Island.
Jessi has been with us since she left high school, for 14 years now. Starting while still in high school, Jessi is now a top-notch tech and very good at helping clients understand their pet's situation. Jessi has several cats and dogs and two wonderful young daughters. She has become a cheer coach and helps with other kid activities, so any free hours are few and far between.
Carla started in 2003 so now been on board for 13 years. She helps as a tech and assists with a lot of the paperwork of the hospital. Carla has dogs, is partial to Jack Russells, and has adopted a couple of special-needs pets. She is a Buckeye fan, NASCAR® fan and enjoys camping.
Cat is in her 9th year with the hospital now. She volunteers with 4-H and has her daughters getting experience caring for and nurturing animals. Cat has several cats and a couple dogs. In her spare time, she enjoys time with her young daughter and finds having teenage daughters an interesting experience.
Karma has been with the clinic for 8 years. Besides her tech responsibilities, she plays a big role with the adoptions and keeping track of who's who. She has both cats and dogs. She enjoys '60s music, with a special fondness for Sir Paul and the Beatles. Also, Karma has started doing yoga and become an avid runner, doing 5 K's and longer to keep fit.
Kelly became a staff member in the summer of 2012. She is a part-time tech/assistant, helping us with all hospital aspects and her ever-present smile. Kelly has three children who keep her on the go with cheer to sports, as a mom taxi to lots of events. She has recently become head coach for cheer teams at her daughter's high school.
Bailee joined our staff in early 2014,and is now causual part time, helping on occasional Saturdays.  Originally from the far northwest, Washington, she has made Ohio her home for the last 13 years. She enjoys cosmetology and several sports, favorite teams being the Heat and the Yankees. Bailee has several canine and feline companions that reside with her.
Sarah started with us in late 2014. She does a bit of double duty, helping at the front desk and assisting with exams and in surgery as a tech. She is a graduate from Bradford Tech School.  Basketball and softball are her favorite sports and enjoys playing either when opportunity arises. Sarah is quick with a smile and has penchant for practical jokes. She shares her home with two dogs.
Devin is our top front desk person now.  Devin is working on a masters degree, which keeps her very busy. She has great fondness for all things aquatic and wild, though her dog at home is the domestic kind. Environmentally conscious, she actively works at keeping her carbon footprint small.
Kirsten is our newest tech. A recent graduate of Bradford Tech Institute she has been part to almost full time member of the staff. Originally from the Wooster area, she now on the northside of Columbus. There are two dogs and a cat who share home with her. If the opportunity arises Kristen enjoys hiking and camping.
Haley is a recent staff member. Finishing her senior year in high school, she fills in periodically as needed at the front desk and with kennels. She is part of her school's tennis team and has a great fondness for horses.